Bobo Li is an avid bicycle fan. He lives in China. When he discovered that almost every Chinese person owns an electric bicycle one day, he decided to engage in the electric bicycle industry, so he has his own factory in China in 2010.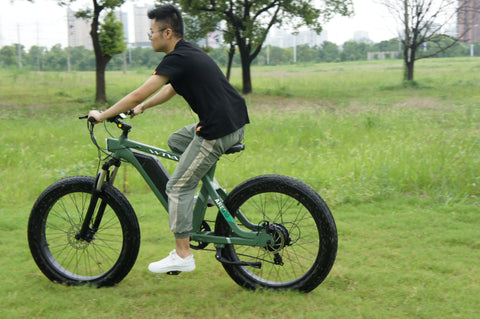 But, he discovered that on the other side of the Atlantic, more and more people in the United States also need electric bikes as a necessity for recreation, travel, and even for working. So he came to the United States, after doing careful market research, he found that people here prefer fat tire electric bicycles, and have higher requirements for the appearance of electric bicycles, so he designed Wtvabikes that will more suitable for people there.

At the same time, after an on-site inspection, Bobo rented a large warehouse in California to store the inventory sent here from China. Bobo even participates in the process of making each bike to packaging. He hopes that he can use his professionalism to win more people's love for electric bikes.
Brand Concept Of WTVA E-BIKES


WTVA E-BIKES-Wake The Vehicle Art

Riding is no longer just for the convenience of travel, but also for the attitude towards one's own life, WTVA Electric Bikes want to show the truth ebike itself, highlighting the self.


The electric bike is a choice of quality, an attitude of enjoyment, a gesture of playing cool, no longer limited to the appreciation of the scenery, but WTVA Ebike will let your own unique scenery in the crowd.
No one is willing to live the same life as anyone else, we often just choose to compromise when we are still not fully satisfied on the material level. But in fact, we all want to live our own lives.

WTVA E-Bikes is for cyclists who are really willing to pursue themselves.

Faith is the power driving people to adhere to, so is of WTVA E-Bikes, the newly released electric bicycle, full three years was spent, from design to making a sample, testing, cycling trial, collecting suggestions to improvement, craftsmanship in thousands of days and nights, improved and perfected little by little, until the moment of complete bicycle model came out, all the hardships of obstacles turned to the excitement and expectation.
The frame is integrally formed and made of aviation aluminum alloy.
The two wheels with extremely strong grip and the flexible shifting system will take you easily across the beach and snow and enjoy a relaxing climbing experience.
Sensitive and efficient brakes, safe and durable, stop immediately, never miss the beauty of any party.
Built-in long-lasting battery life lithium battery, riding longer, enjoy longer.
High-quality customer sale service, professional after-sales service, professional electric car import and export company.
WTVA E-BIKES-Wake The Vehicle Art, let your cycling born to be different, for different riding, making different lives.

How To Find Us:

Our Customer Service Email Address: wtvabikes@gmail.com

Our Working Time:

Monday to Friday, and 9:00 am to 5:00 pm
Our China Factory Address:
Furong Industrial Concentration Zone, Hengshanqiao Town, Wujin District, Changzhou City, Jiangsu Province, China
Our USA Warehouse Address:
4250 Shirley Ave. El Monte, CA 91731